I was reading an interesting article about "Unlocking Brazil's Long-Term Growth Potential" in the Financialist, which is a great newsletter from Credit Suisse. It is a really succinct, intelligent article about some things that came out of the their 2016 Latin America Investment Conference in São Paulo.
It got me thinking about what can be done in the short to medium term to help improve the current economic recession, and increasing exports is one of the easiest and obvious answer that came to mind. The drastic devaluation of the BRL has been a Donald Trump HUUUGE driver in helping make Brazilian exports more competitive in the global market place.
But in many ways, the Brazilian economy has been beaten up by the dependence on the exports of raw materials and basic commodities. The government has made some half-hearted attempts to encourage exports and made some financing and loans a bit easier to get. But, in this article let's look at Brazil's exports and try to see where the biggest opportunities exist.
By the Numbers
So where does Brazil fit in the world in terms of exports and imports of goods and services (Current USD)? 25th in the world in exports and 23rd in imports.
Exports & Imports of Goods and Services (USD M) in 2014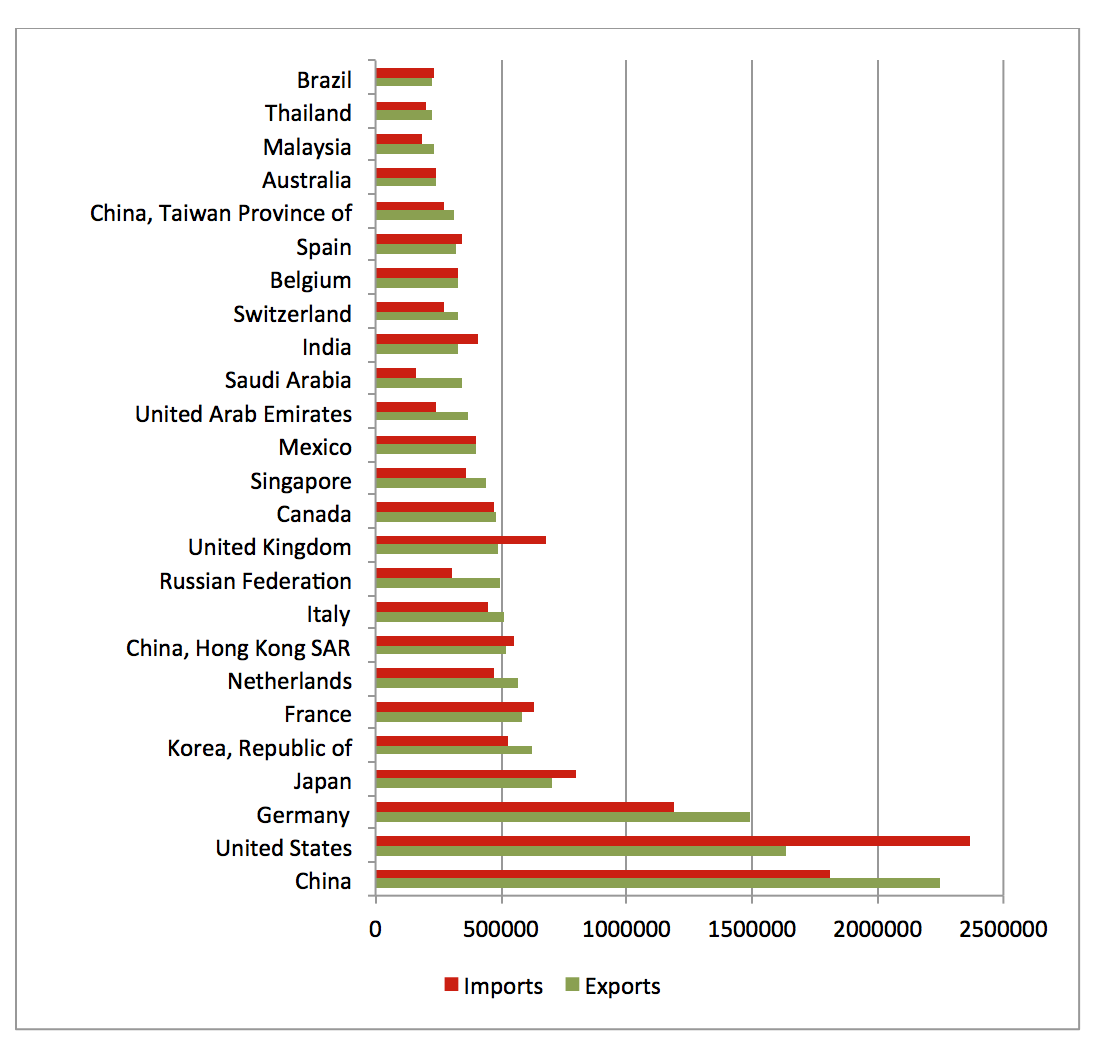 Total Exports US$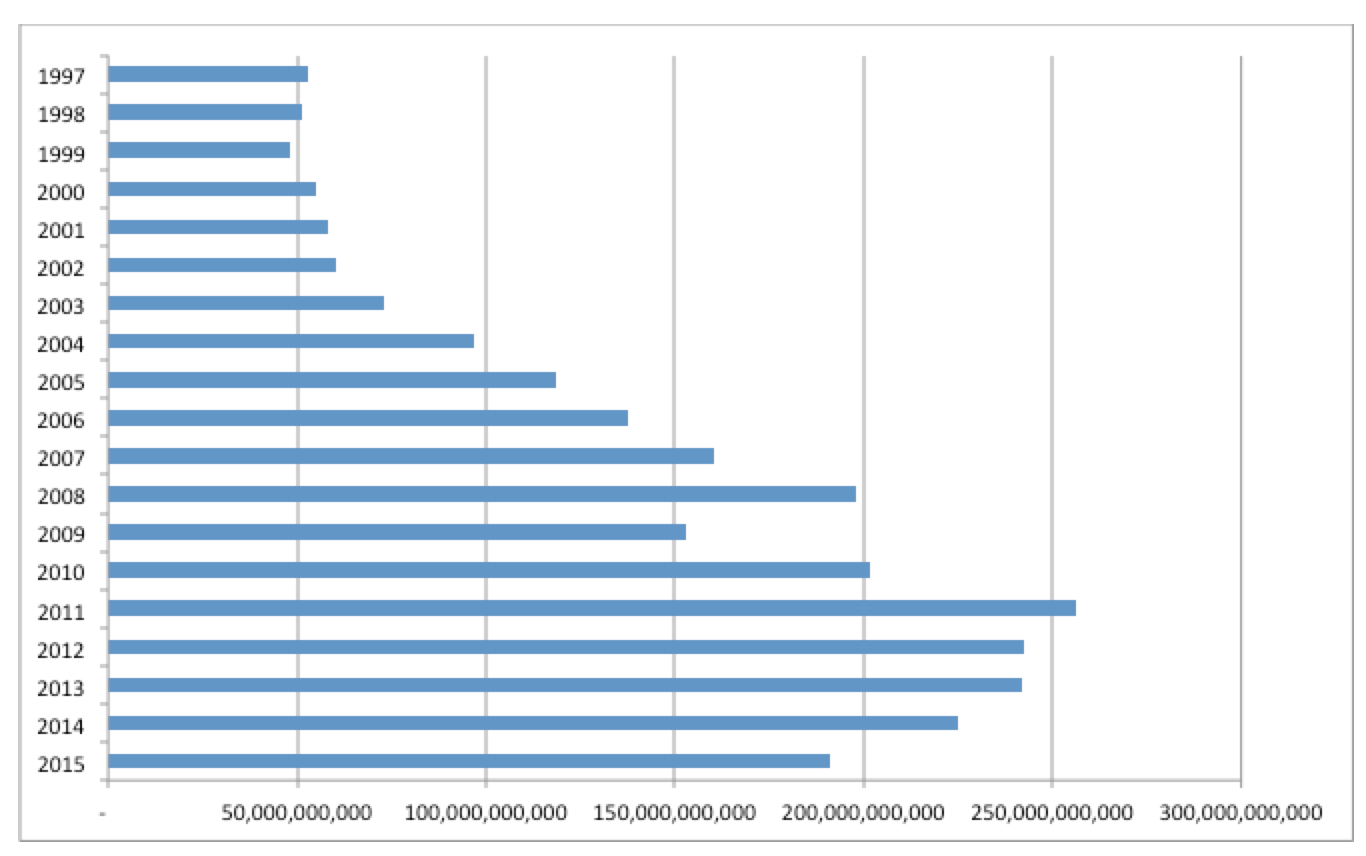 Total exports have progressively decreased from a high of US$256B in 2011. Since 2011 exports have dropped by US$64,9B, and meats, raw materials, metals and machinery account for just over 81% of that drop.
2015 Total Exports in US$M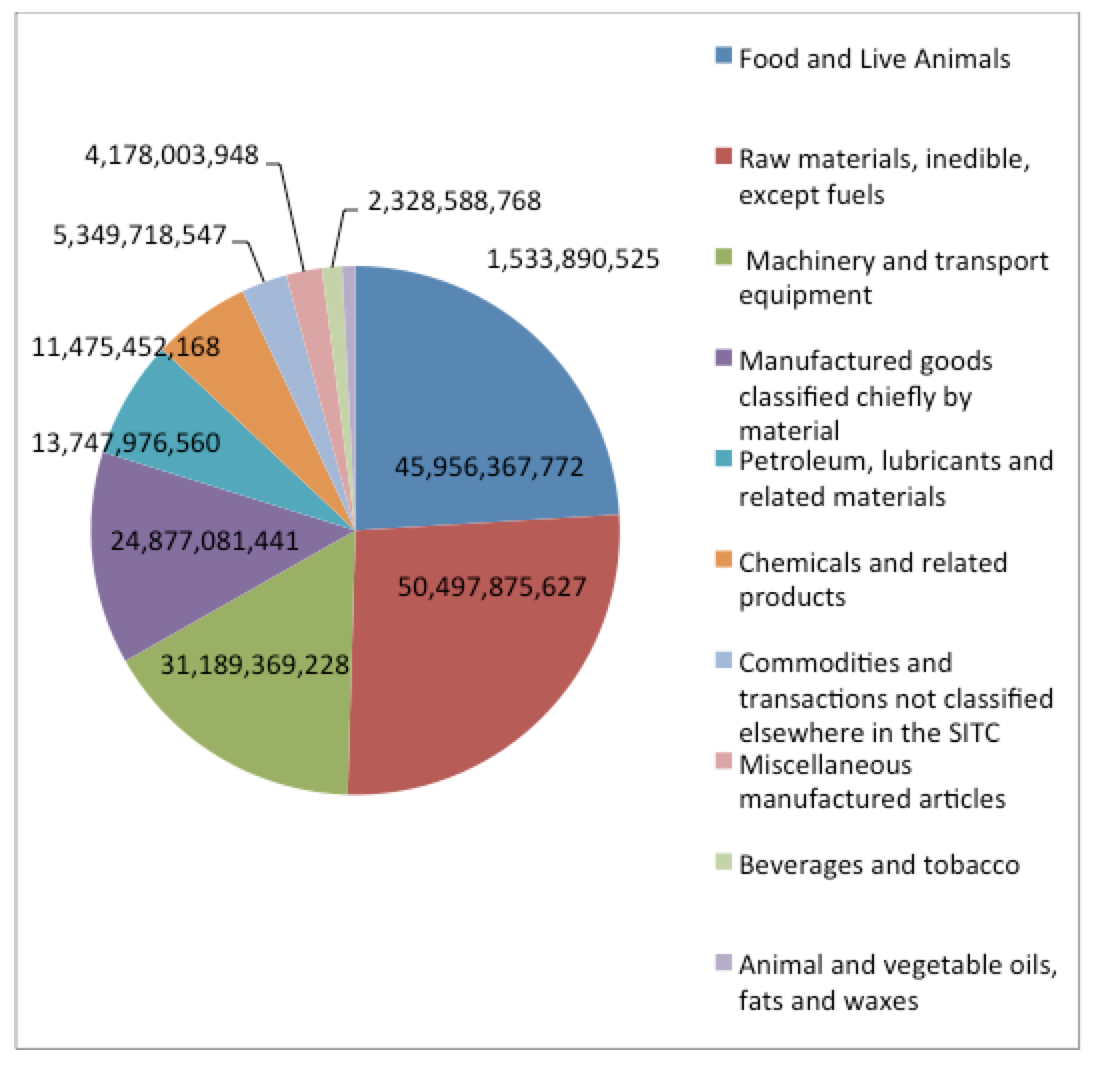 The top four categories (Food & Meat, Raw materials, Machinery & Equipment and Manufactured Goods) account for 80% of the 2015 total, but combined these have retrenched 22% compared to the 2011 highs.
2015 Top Export Categories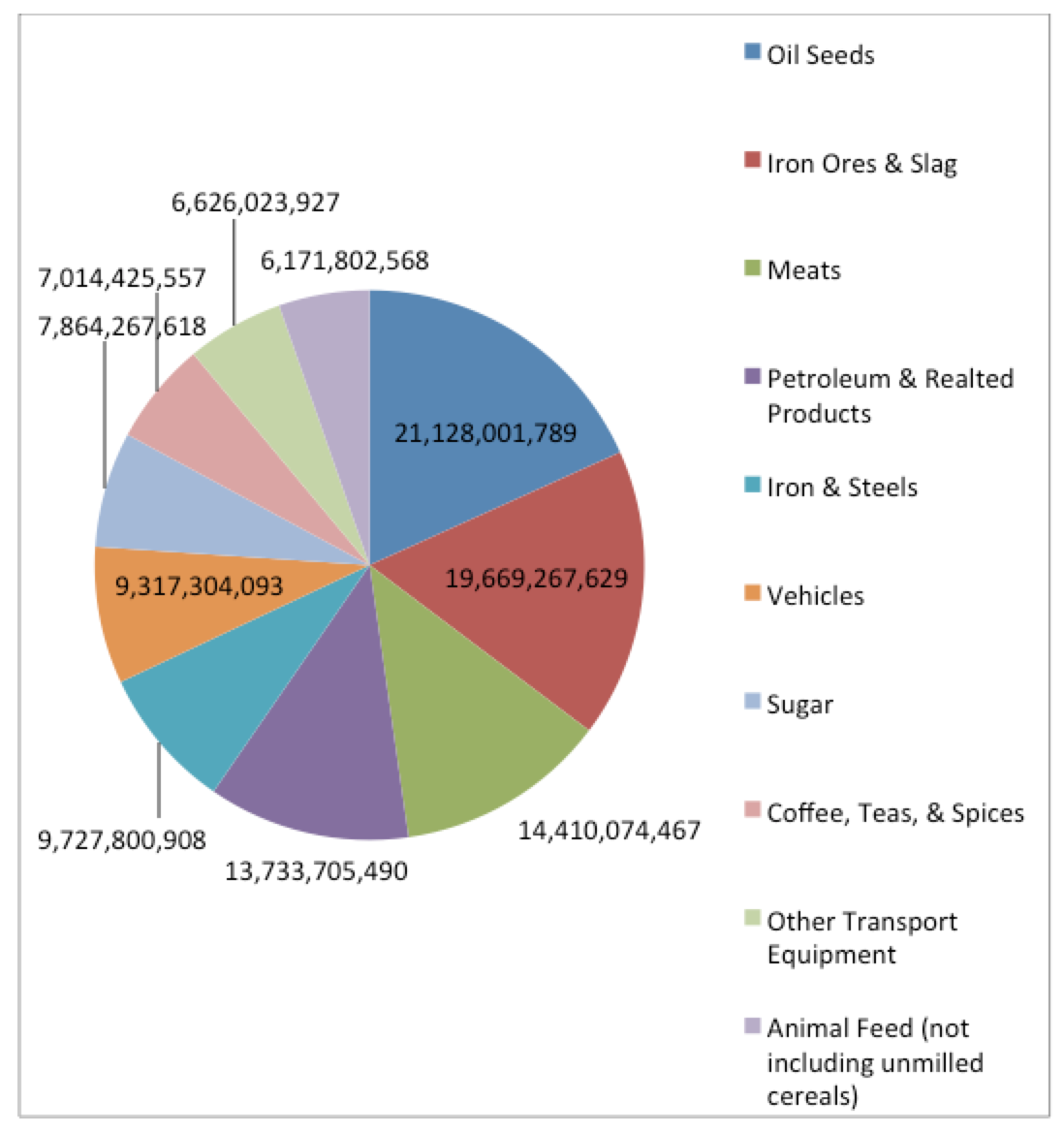 Top Ten Exports (% of Total)
The top 10 exports account for 49% of the total exports and for the most part are largely composed for basic bulk commodities. Brazil is the 3rd largest iron producer in the world, 2nd largest soybean producer, and the largest sugar and coffee producer.
Top 10 Trading Partners Exports (2014)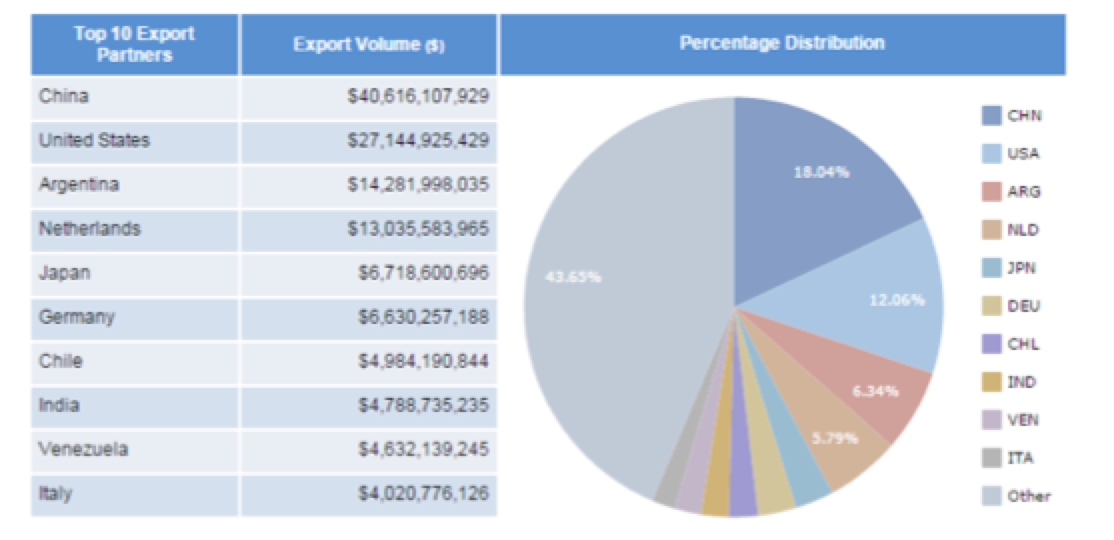 China 2014 Export Analysis
USA 2014 Export Analysis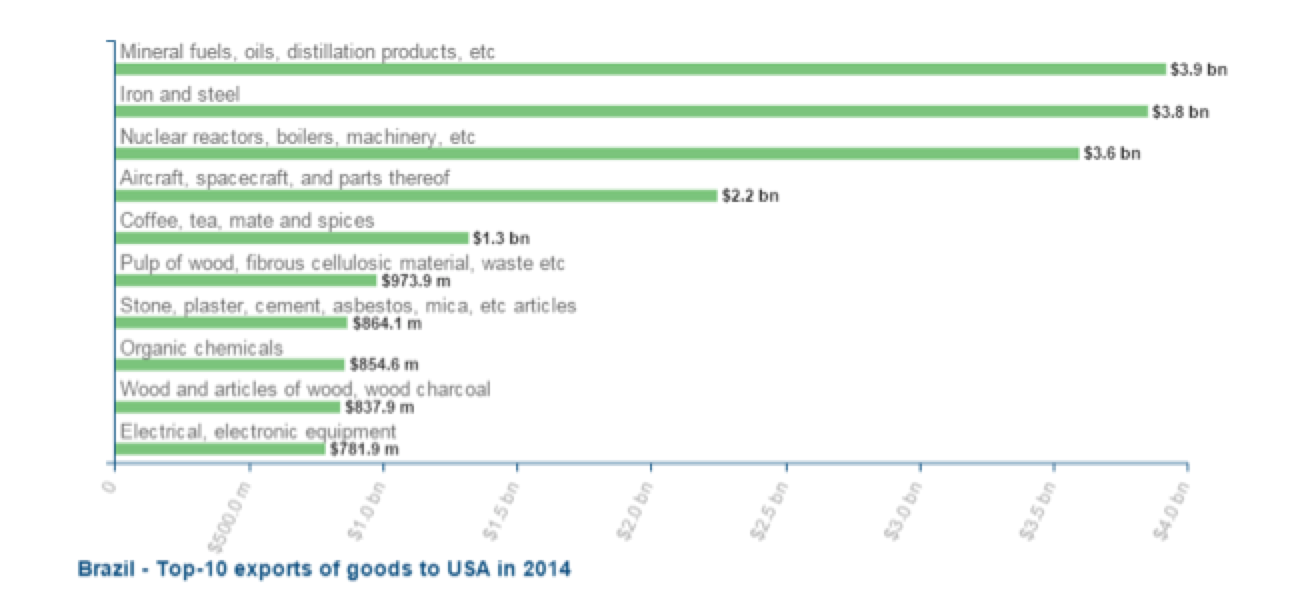 Argentina 2014 Export Analysis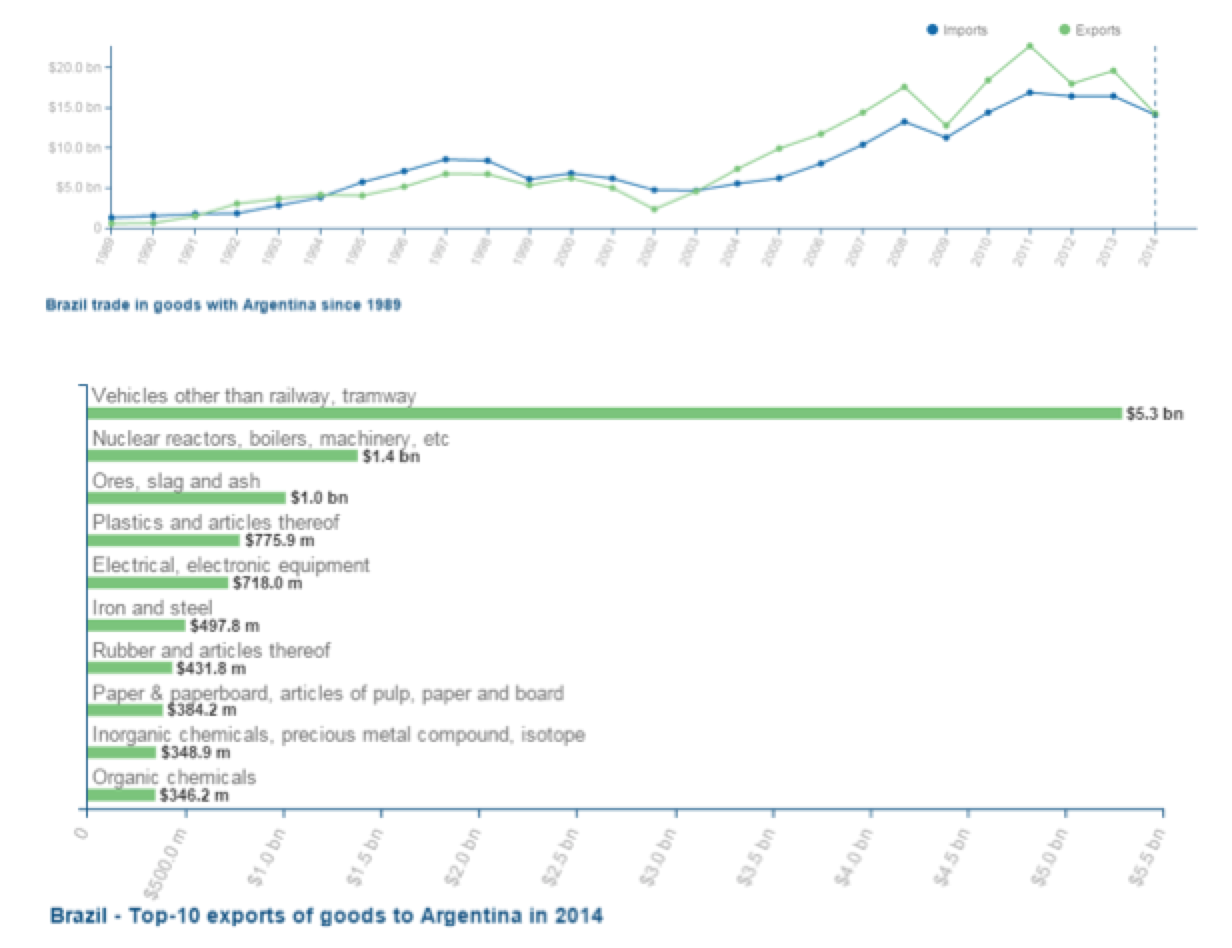 Exports are an important driver of growth in Brazil and account for about 13% of GDP. It's also an obvious area that can take advantage of the weak Real to improve growth prospects. The government has targeted expanding exports and is looking to increase trade beyond the Mercosur, which is composed of Argentina, Uruguay, Paraguay and Venezuela. In particular, it seems they are targeting United States, the EU, Mexico, Chile, Peru and Colombia.
Much of Brazil's decrease in exports has been driven by the fall in commodity prices and the decrease in China's growth. If you look at the Brazil's exports to China they are dominated by raw, bulk commodities. Little value added services and little beyond the raw building blocks being exported. If China accelerates so will exports, but it doesn't look like 2016 will be the year for that.
Exports to the US show a more varied, diverse and quite frankly more interesting base and could significantly increase as the US economy continues to consolidate and improve in 2016. However, Brazil and US have had a rocky trade history and there have been recent disputes related to orange juice, ethanol and cotton.
Argentina also could be a bright spot with President Macri loosening state controls and trying to drive growth there. But, the auto industry in Brazil has faced stiff winds and while increasing exports is possible, it will have to be driven by new sectors beyond vehicles.
And let's face it, the Mercosur is the weirdest trade bloc out there, and in the end, is such a bad deal for Brazil that it's time to rethink that strategy and open up to new possibilities. Mercosur has limited exports to Chile, Peru and others because of the tariffs imposed by Mercosur. Im skeptical to think that Venezuela, Uruguay, Argentina and Paraguay are going to be growth driven markets that can even marginally improve Brazil's growth outlook.
The EU has been hesitant to increase talks because of Paraguay's suspended status. While Mexico is exempt from the tariffs, there is no free lunch. Increasing trade relations and exports requires a tit for tat approach and will expose some of the structural flaws, low productivities and competitiveness problems inherent in many sectors in Brazil, especially manufacturing where investment has been low and slow.
Time can heal all pains, but it goes quicker if there is actually a coherent economic and trade policy. It's time for Brazil to push for a series of broad based trade agreements and improve its ability to compete in the global market place. While not the quick fix Dilma is hoping for, it's a very real (pun intended) alternative that can provide increased growth in this anemic environment. While there are certainly challenges, the numbers are truly staggering and provide some significant opportunities for those willing to take up the challenge.
As always, thanks for reading and please send along any comments or suggestions.
Kind Regards,
RP
"Most of us serve our ideals by fits and starts. The person who makes a success of living is the one who sees his goal steadily and aims for it unswervingly. That is dedication." – Cecil B DeMille
Sources:
World Bank
UNCTADStats and UN Comtrade
BCB
Global Edge Center at Michigan State University
The World Integrated Trade Solution (WITS)