Well another week in paradise. Rain, rain and more rain, but that is very good given the general lack of it the last couple years. Hopefully, the reservoirs are filling up quickly so we can ensure water supply and cheaper electricity in 2016. El Nino at work.
President Dilma hosted her breakfast with journalists on Friday, January the 15th and couple things worth noting came out of it, not the least of which is the latest unemployment data consolidated through Q3, 2015. The PNAD is the newest measure of unemployment being utilized in Brazil, and it is published monthly by the IBGE. It's basically a rolling three month average, and it creeped up slightly to 9.0% for the period August/September/October 2015, compared to a 6.6% for the same period in 2014. It was 8.6% in the previous three month period of May/June/July
A few Brazilian demographic statistics for you through the end of October 2015:
202.4 M projected population;
164.6M people are over 14 years of age and available to work;
101.4M are in the workforce;
92.3M people are employed;
9,1M are unemployed; &
61.6% labor participation rate.
Brazilian PNAD Unemployment Rate 2012-2015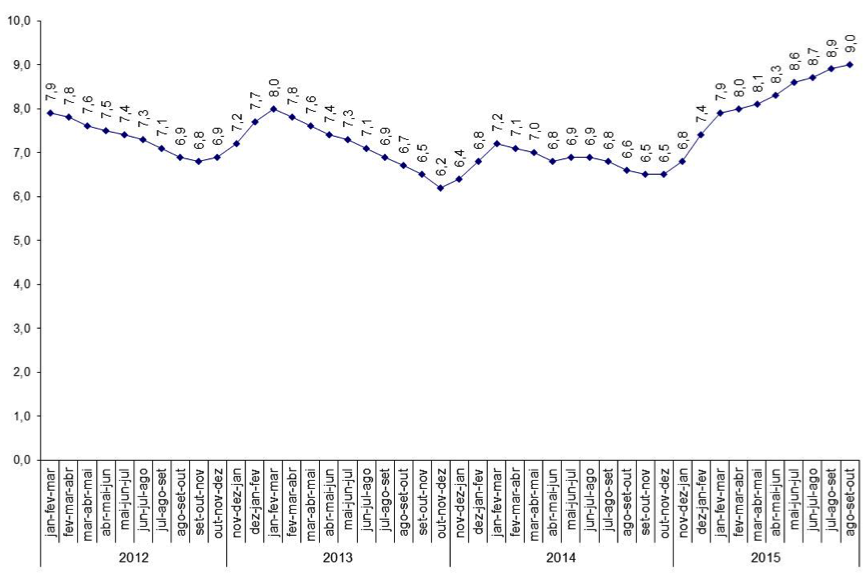 Not bad when compared to France or Italy, but not good if you want to jumpstart the economy and get people to start spending. At its peak, US unemployment was around 10.8% in 2009, and it has taken basically 4 years to work back down to around 5%.
Pedaling on to More Credit
Dilma and Barbosa have solicited proposals from the state banks on how to increase credit for certain sectors without impacting government fiscal restraint. "Tight fiscal policy is necessary, but that does not mean that we cannot have a credit policy … aimed at certain sectors," Dilma told reporters during the breakfast on Friday. We are likely to see some loosening of credit for construction, agriculture, small businesses and exports.
COPOM meeting is scheduled for January 19th and 20th and all indications are that there will be a SELIC rate increase of 25 basis points. Dilma was so kind to point out that, "the central bank has autonomy to set its policies, but it is still accountable to the rest of the government."
Nothing like putting the screws to President Tombini of the BCB. He will be the next person in the hot seat if they raise rates and be the convenient scapegoat for the high inflation rates.
Dilma and PT are against further rate hikes. While she believes that the frustratingly high inflation is mostly due to the high indexation rates where contracts and salaries are pegged to inflation, she offers no coherent economic policies or structural changes to alter that so inflation can decrease.
It's easy problem to get moving in the right direction, but in trying to please everyone and maintain as much support as possible, they effectively do nothing productive. It takes a crisis to spur action. Her approval rating continues in the single digits.
Sigh.
CPMF Back on the Table in 2016?
The Contribuição Provisória sobre Movimentações Financeiras (CPMF) last reared its ugly head in 2007, and while it was supposed to be temporary, it lasted for 11 years. The current IOF tax is similar but has a much smaller target base of transactions. But, the CPMF has been included in the 2016 budget.
If approved, it is a tax that will be applied to all financial transactions both for individual as well as for companies. Generally, any funds leaving a bank account would be taxed at a proposed rate of 0.2% and be used to shore up the Social Security System (FGTS). It will be hotly debated when congress gets back to "work." The government is counting on this for R$10,3B increase in revenue.
The one bright spot is that while our taxes may continue to rise, there is at least a conversation going on about having to raise the retirement age for the Social Security System. Nothing concrete so far and really nothing will be tackled until after the impeachment process is resolved. But at least it is the first time we have seen some conversations on structural reforms required to improve finances and economic viability moving forward.
As always, thanks for reading and please send along any comments or suggestions.
Kind Regards,
RP
"The definition of insanity is doing the same thing over and over and expecting it to come out different." – unknown.

Sources:
Brazil Central Bank
Instituto Brasileiro de Geografia e Estatística (IBGE)
Reuters News Service
www.exame.abril.com.br
World Bank Development Indicators