Dear Gentle Readers,
Happy New Year! Hope the Holiday seasons finds you surrounded by family and friends and celebrating the end of another year and the new beginnings that 2016 will bring.
In my previous article, I looked at the competitiveness of each of the Brazilian states. In that same light I wanted to present how Brazil stacks up globally, with a special focusing on the BRICS (Brazil, Russia, India, China and South Africa) and Latin America.
Each year the World Economic Forum (WEF) puts out their Global Competitiveness Report. Once again, our focus here is to present a scorecard so that areas of improvement can be identified and potential points of interest for companies establishing a presence in Brazil can be thought out ahead of time.
The WEF study evaluates and measures 12 "pillars" using the following framework as a basis for ranking global competitiveness:

In future articles we will investigate in depth each one of these main pillars, especially as it relates to opening and operating a business in Brazil.
The top ten countries in the latest study are presented below and are the usual suspects.
While the order may shuffle around a bit, in general, the same countries tend to populate the top 10-15 spots in the short- to mid-term.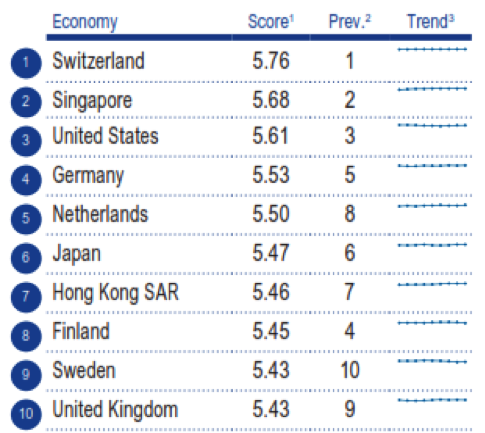 Much is being written about Brazil currently, and it's obvious that there are strong headwinds in the short to mid-term.
Political uncertainty combined with an economic downturn have taken a heavy toll on Brazil's prospects, and its reflected in the rankings as Brazil has fallen from 57th to 75th in the WEF rankings.
While some of this has to do with the economic downturn the global markets have been facing, the majority of it is self-inflicted as political institutions, poor and disjointed economic and fiscal policies, and the loss of consumer and investor confidence related to corruption scandals continue to dominate the headlines and the world perception.
Plenty to write about there, and we will dive into each of these issues in future postings. So without further ado, here are the rankings.
Figure 1: Brazil – 2014 & 2015 WEF Competitiveness Scores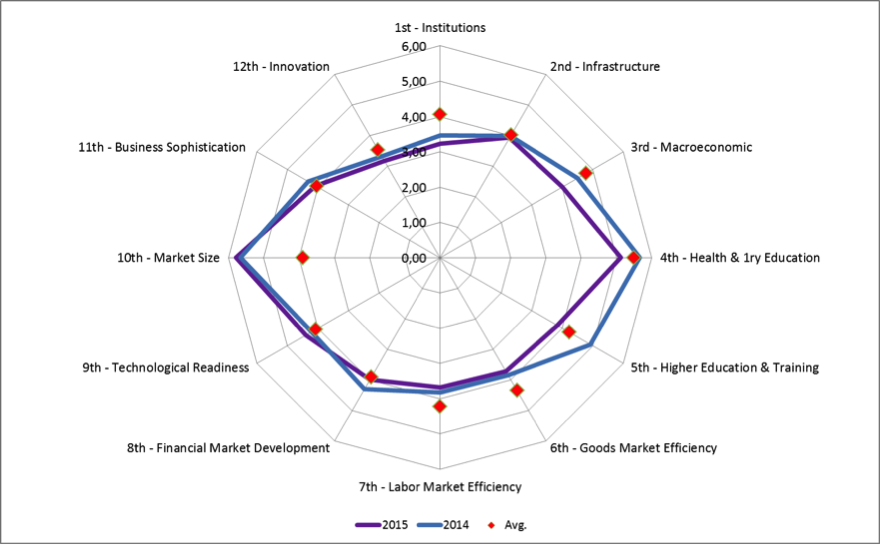 Table 1: BRICS & LATAM – 2015 Competitiveness Scores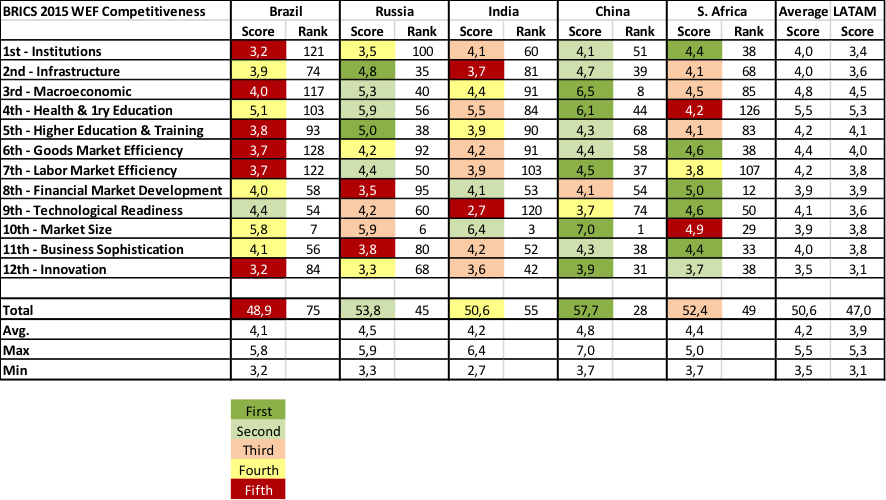 Table 2: Brazil 2014 & 2015 Competitiveness Comparison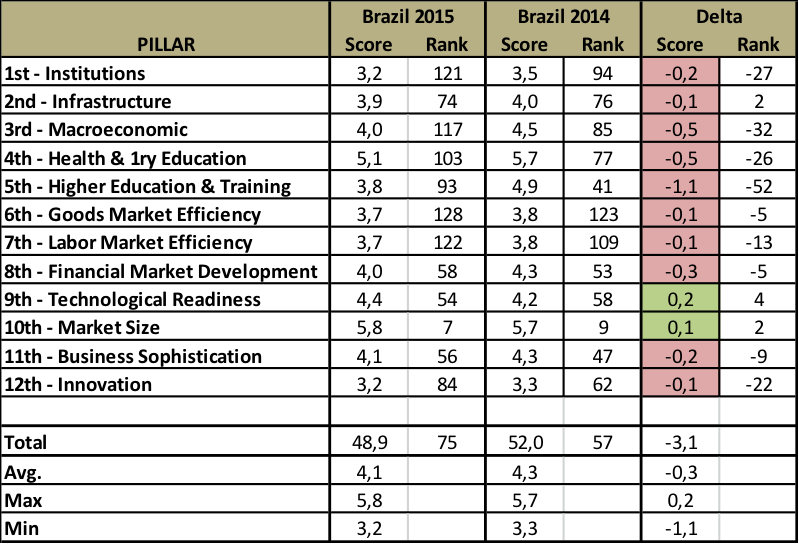 As you can see, the Technological Readiness and Market Size continue to rise, while all the other scores have fallen, and some drastically such as Institutions (corruption, instability and credibility), macroeconomics (political mismanagement a lack of cohesive economic/fiscal vision and supporting policy), education and training (lack of funds and lack of cohesive improvement policy) and innovation (lack of R&D, decreased government spending, lack of training and qualified labor).
In Latin America, the global economic deceleration has impacted the entire region, especially as it relates to natural resources sectors including petroleum and iron ore.
Chile has the top WEF ranking (35th), followed by Panama (50th) and Costa Rica (52nd). Mexico (57th) and Colombia (61st) continue to improve.
In the short term, the political turmoil in Brazil needs to be resolved in 2016 so that a coherent road to recovery can be outlined, established and most importantly executed.
2016 should be a year of consolidation, and I'm looking forward to seeing how Brazilian political, social and financial institutions respond to the challenge.
While much of the current news is negative, on the whole, I'm very pleased with the apparent advances taking place in the society.
For the first time, long standing political institutions and corruption by very connected and powerful people are being confronted and punished. Several of the most powerful people are behind bars and awaiting trial, and they haven't been able to even post bail.
A sitting federal senator, for the first time that I am aware, is behind bars awaiting trial for corruption and trying to influence a witness. In general, the society is demanding clarity, institutional changes and accountability.
All big steps and good signs of things to come, and in the mid- to long-term should go a long way to contributing towards building a stronger society and strengthen the institutions.
As always, kind regards,
RP
"Government of the people, by the people, for the people, shall not perish from the Earth." – Abraham Lincoln
Sources:
The Global Competitiveness Report 2015–2016, World Economic Forum, September 2015.