Dear Gentle Readers,
Well another week in Paradise. The brief winter break is upon us, kids are out of school and traffic is flowing like greased lightning around town. It's wonderful. Eduardo Cunha finally admitted the inevitable and resigned from his post as Speaker of the Lower House. He is still trying to hang on to his Seat, but things aren't looking up for this poor misunderstood soul. Like all good corrupt politicians, he vehemently denies any wrong doing.With a cracking voice full of emotion,he lamented that he is a victim of unfair attention and persecution for having started the impeachment process. It was an impeccable performance worthy of an academy award. Somewhere along the line he forgot the timeless words of wisdom – "Those who live by the sword die by the sword."
Doing Business in Brazil 101 – Accounts Receivables
Accounts Payables is the topic du jour, and its vital importance cannot be understated. Anyone who has ever had their own business or had to run a business understands that cashflow is the lifeblood of any company. In my humble opinion, cash flow is, almost without exception, one of the most important metrics that every company should track and is one of the truest indicators of success in business.
In our previous Doing Business in Brazil 101 Accounts Payables we gave a brief overview of Accounts Payables. As Ray Dalio kindly highlights, Accounts Payables and Receivables are truly a Ying/Yang feature of business as one company's Payables is another company's Receivables. Combined they tell us the cash flow from operations story and provide a great metric for the health of any company.The impacts of cash flow ripple through the General Ledger and the day to day operations.
Brazilian Business Accounting – Electronic Tax ID Number (e-CNPJ)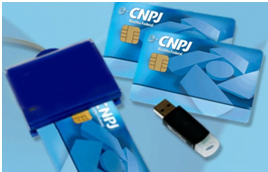 />All companies in Brazil are issued a Tax ID Number ("Cadastro Nacional da Pessoa Jurídica" or CNPJ). In order to issue invoices, file tax documents etc..most companies get an electronic Tax ID Token called an e-CNPJ, which typically is a card or a USB token.
The e-CNPJ can be purchased for 1, 2 or 3 year periods and costs around R$350-450 for 3 years, at the time of this post. The token provides the company information and is used to authenticate Company transactions. I generally recommend the USB token for its ease of use and generally get for a period of 3 years. It's a nominal cost between the different periods, and it's just another 1-2 hours out of your life saved from waiting in line.
Brazilian Business Accounting – Invoicing for Goods or Products (NF-e)
So how do you get paid in Brazil?? One of my favorite conversation starters! "Medição" is the Brazilian word for invoicing or billing. Invoicing for Goods/Products is a bit different than services, but we will briefly go through both. In general, invoicing for goods and services is pretty straight forward. When a Product is sold, payment is usually expected at the time of sale, and a Nota Fiscal or Cupom Fiscal is generated to document the sale. All companies are required to generate these tax documents, and the data is transmitted periodically to the tax authorities with electronic invoicing. Usually payment is quick if paid in cash or with an electronic method.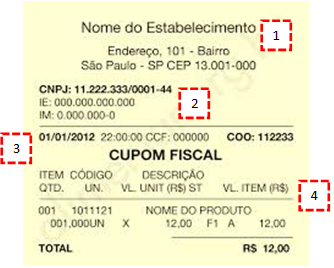 The key features are:
1.) Company Information;
2.) CNPJ – Business ID Number/ IE – State ID Number/IM – Municipal ID Number;
3.) Date/ CCF – Receipt Number/ COO – Operation Number; &
4.) Description of Products, Unit Prices and Total Price.
Brazilian Business Accounting – Invoicing for Services (NFS-e)
Invoicing for services also generates a Nota Fiscal (NFS-e) and it's a bit different than a Cupom Fiscal or Nota Fiscal (NF-e). But at the end of the day, it serves the same function of providing the details of the transaction and transmitting the data to the tax authorities.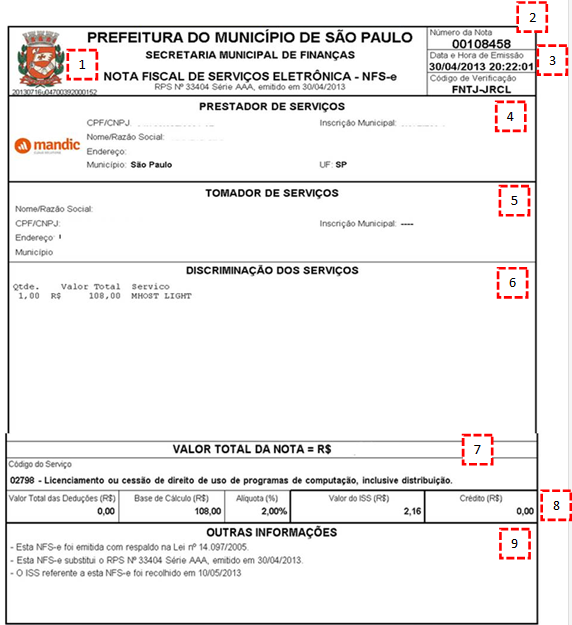 The key features of a NFS-e are:
1.) Municipality;
2.) NFS-e ID number;
3.) NFS-e date;
4.) Service provider company information;
5.) Customer company information;
6.) Service description;
7.) Gross value of the NFS-e;
8.) Other relevant information; &
9.) Tax information.
You may issue a payment coupon ("boleto") together with the NFS-e, or the bank account info may be put on the NFS-e, and you will get paid via a bank wire transfer. Most banks provide a service for issuing a payment coupon and tracking payments. If you want to put an expiration date on your invoice, I recommend issuing a boleto. It will cost a nominal amount per boletoto issue, but the advantage is that usually there is a defined penalty and fees associated with late payment. If the boleto is not paid by the due date, it cant be paid and has to be reissued. Most banks then provide a service where the party who is late can go to the bank site, generate a new boleto and fees and penalties are automatically applied with no additional work on your part. The wire transfer is simpler in the sense that no additional document has to be generated, but hopefully you get paid in a timely manner. Days outstanding is another wonder metric and should be used by all service companies.
Closing Thoughts
A couple closing thoughts to keep in mind. First, a line of credit is an important tool that most companies should consider, but I always get the hairs standing up on the back of my neck when I actually draw upon a line of credit, regardless of the reason. Interest rates are a huge consideration in Brazil where it's wonderful to put money in the bank and get a real 5-6 % return on money in a CD, but the flip side is also true. Short term lines of credit will cost approximately 1,5 – 2% monthly in Brazil. I know several companies that were forced to draw on their lines of credit or worse yet seek short term loans on receivables because of "short term" cash flow difficulties.In short order it snowballed on them. 20-25% interest rates/year is a fierce motivator.
Second, Brazilian accounting is complex. The better records and transaction details you keep, the easier it will be to have a solid set of books. Remember to keep all your Receivables documentation for inclusion in the annual accounting and as back-up. It's essential information from an accounting standpoint regardless of the tax regime. It's also important if clients come back with questions and are trying to figure out their own taxes or payables, which happens surprisingly often.
Third, I've said it before, and I'll say it again in the future – get yourself a good accountant to get started. If you start out with good books and controls, it makes everything easier in the future. If you don't, then it's always an Achilles heel and takes extra work and cost to rectify in the future. Accounting is an additional cost of doing business in Brazil, but I have found that it is not that expensive compared to the potential risks and can be quite cost effective if done routinely.
It's not glamourous, but it's important information to get a handle on if you want to do have success in business in Brazil. As always, thanks for reading and send along any comments or suggestions.
Keep smiling,
RP
"The greatest danger for most of us is not that our aim is too high and we miss it, but that it is too low and we reach it."–Michelangelo