Dear Gentle Readers,
Happy last week of January for you all. I hope this first month of 2016 has been wonderful. My family just came back from São Paulo and while the kids are sad it's the end of the summer, they have been traveling for almost 2 months so good to be home! I'm really happy to have them back after a month at Grandma's house.
I was reading through my normal articles for the week and came across the fact that our friends at the BCB just reported a huge spike in foreign direct investment (FDI) in December 2015, mainly due to an increase in mergers & acquisition. The total for the month was US$15.21B, which is a staggering number when compared to the US$7.2B monthly average for the last 5 years. To put it in perspective, that monthly value was exceeded only one time over the last decade, which was in November 2010 when it hit $20,427 for the month.
It's something to think about and watch moving forward. The BRL continues its slide and bolts to just shy of R$4,00 in December 2015. We may be seeing smart money looking for the value plays and taking advantage of the opportunities. Deals to be done!
It's a bit early to get too overexcited, but lets see what happens over the next 3-4 months. I don't feel like we have gotten to capitulation yet where the our friends at the Planalto are in a big enough pinch to actually put forth and execute a reasonable economic plan to get Brazil moving in the right direction and actually start earning their salaries. But, the strong dollar and a prolonged economic recession are making:
Brazilian exports way more competitive than they were a year ago;
Cost of doing business in Brazil much cheaper;
Debt restructuring and firms seeking bankruptcy protection are on the rise; &
Sectors of the Brazilian markets way more reasonable in terms of valuations and investments.
NET MONTHLY FDI FLOWS (USD M)

It's an interesting breakdown going on in the Financial Account as well. In general, the direct investment inflows have remained strong while over the last 6 months we have seen portfolio investments outflow increasing, which likely has much to do with the ratings downgrade. This is likely to continue over the coming 6-12 months as funds reshuffle their emerging market portfolios.
FINANCIAL ACCOUNT DETAIL (USD M)
The top 15 investors (FDI Equity Cap) by country based on the full year 2014 are:


Again, another interesting group, which in a future article we can look at breaking those investments down. I'm curious about the Dutch level of investments. The fun bunch are Switzerland, BVI and Caymans, and I imagine a large part of the Netherlands contribution. Offshore havens that continue to prove the world is flat!
The sector breakdown shows that services have attracted the bulk of the investment.
Foreign Direct Investment (Equity Cap) by Sector (USD M)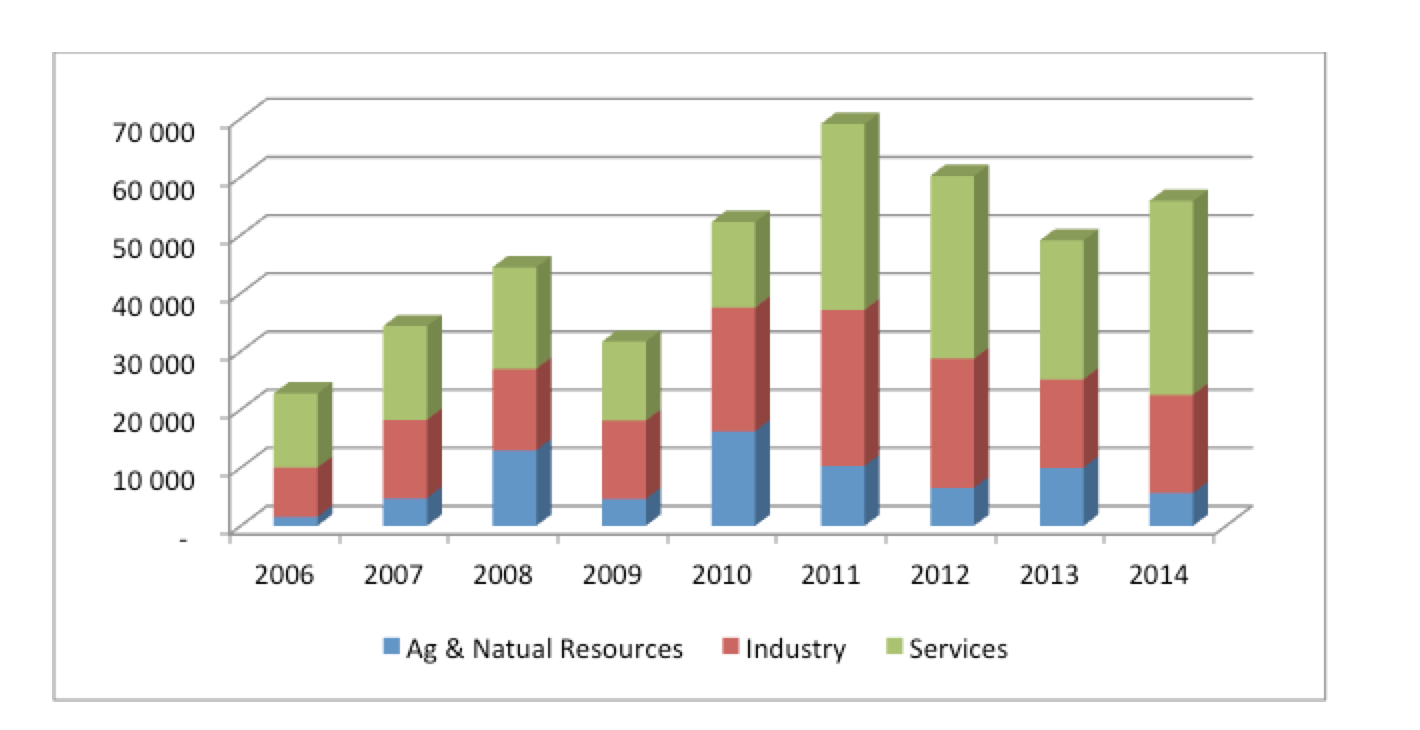 Well, let's see what the coming months bring and if we see a trend we can take advantage of forming.
As always, thanks for reading and please send along any comments or suggestions.
RP
"When I was 5 years old, my mother always told me that happiness was the key to life. When I went to school, they asked me what I wanted to be when I grew up. I wrote down "happy." They told me I didn't understand the assignment, and I told them they didn't understand life."
-Anonymous