Dear Gentle Reader,
Hope this latest entry finds you well. We recently had the first COPOM meeting of the Brazilian Central Bank under the new management of IlanGoldfajn. Say that name 10x fast. Surprise, surprise no change!!!! Steady as she goes at 14,25%.
In the monthly write up, the COPOM committee mentions that it appears there is a general stabilization in the economic activities in the short term, but caution about high levels of slack and idleness. Inflation expectations have fallen, but unemployment continues in double digits.
Success in business in Brazil requires understanding and vision. Today's post will be part of a regular quarterly post looking at the structure of the Brazilian GDP and taking a deep dive to see if anything is improving. The Brazilian economy is the engine that can, and I believe that if the government soap opera can be put behind us, the strength of the Brazilian consumer can shine through.When the Brazilian economy does turn around, the easy money will already be off the table. So let's look at the numbers, and see if we can identify the sectors that will lead the way and provide superior investment opportunities in Brazil.
Brazilian Economy – GDPGeneral
The 10-year average annual GDP growth rate (Current USD) is 2,8% with a peak rate of 7,53% in 2010 and a dismal low of -3,8% in 2015. 2016 is shaping up to much the same as 2015. On a current USD basis, the peak GDP of $2.61B occurred in 2011 when the economy was firing on all cylinders. That equated to a per capita GDP of $13.236. Much of Brazil's growth has been driven by an expanding middle class and a growing consumer base. But, much of the individual advances have been lost since 2011 as the economy has stagnated and real wages have been giving ground to inflation and a weakening BRL.
Services account for approximately 60% of the GDP and are growing over time. Major sectors include telecommunications, banking, energy and commerce.Brazil has the second largest industrial sector in the Americas behind the US, and includes automobiles, steel,petrochemicals, computers and aircraft. Industry accounts for approximately 19% of GDP, but is recently contracting with the recession. Agribusiness now accounts for approximately 6% of the GDP and is growing steadily with time as Brazil increasingly benefits from its natural advantages of geography and climate. Taxes less subsidies make up the remainder and account for approximately 15% of GDP.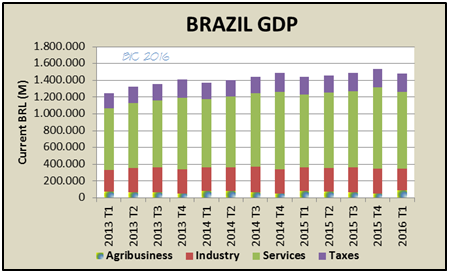 Brazilian Economy – Agri business
Brazil has transformed itself into a premier agribusiness powerhouse. It is the number one agricultural exporter and number three food producer globally. Brazil is a global leader in exporting soybean products, corn, beef, poultry, pork, cotton, forest products, orange juice, sugar and coffee. Agriculture accounts for approximately 6% of Brazil's GDP and has been growing at an annual YOY rate of 10% for the last decade. This trend looks to continue and can provide strong growth for decades to come.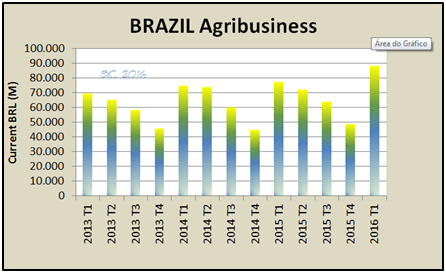 Brazilian Economy – Industry
Brazilian industry accounts for 19% of GDP, but has been gradually shrinking since the start of the recession. Over the last decade industry has grown at an annualized rate of 8%, but since 2015 has declined, mainly due to losses in the mining and civil construction sectors. Mining and mineral resources in particular have just been hammered. Manufacturing and utilities continue to be strong growth markets, growing at 6% and 9% annually over the last decade.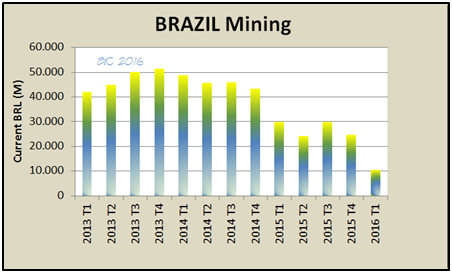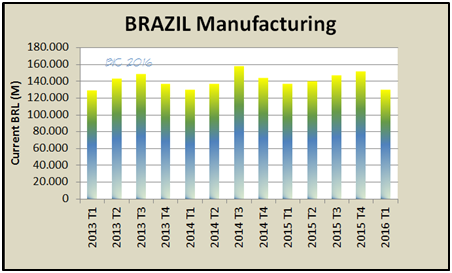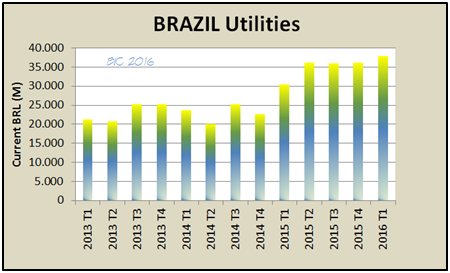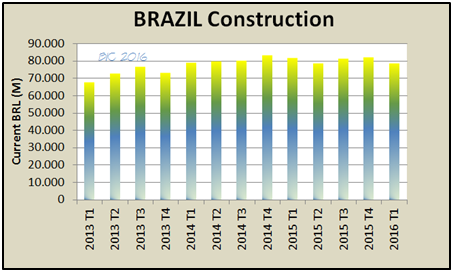 Brazilian Economy – Services
Services are comprised of commerce, logistics/transport, information services, finance/insurance, real estate, public administration and others. It has been growing annually at 12% over the last decade driven by strong growth in the logistics (13%), finance and insurance (12%), real estate (11%)and public administration (12%) sectors.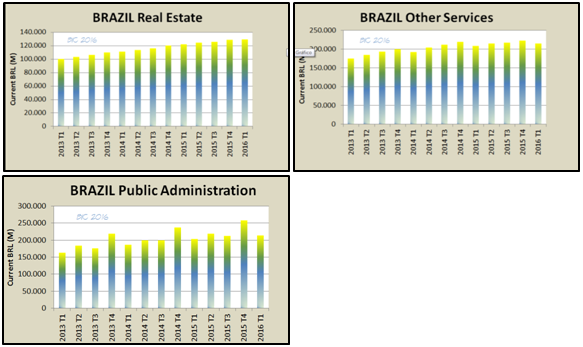 Brazilian Economy – Consumption
Brazilian households account for approximately 63% of total consumption, while government accounts for 32%. This strong household consumption should follow the demographic trends, and continue to be a key component in growth moving forward. The remainder is divided between capital formation and changes in stocks/inventories. Interestingly enough,inventory has been strongly decreasing in recent quarters and leads me to believe that we should see an uptick in manufacturing in the near term.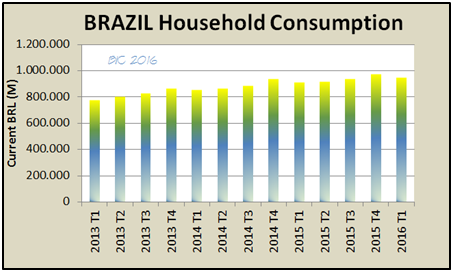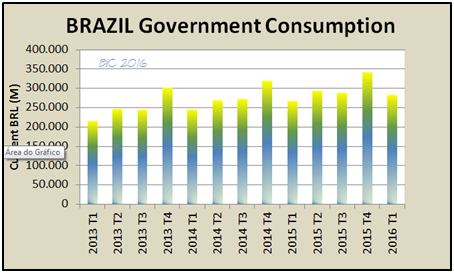 Closing Thoughts
It appears that a fragile recovery is underway, and the economy should return to very modest growth in 2017. It feels that way on the streets where there is a cautious sense of optimism. While we are not out of the woods, I believe the worst is past us and the economy is moving in the right direction. If inflation continuesits downward glide, then it is very likely the central bank can start to ease towards the end of 2016 and provide some much needed stimulus to the economy. I would anticipate 1-2 cuts in 2016 as both the improving economy and political urgency support a cut at first glimmer of stability.
As long as fiscal restraint continues in the Brasilia, which is not a given, and no further major surprises come out of the political arena, I'm quietly optimistic. But until the political situation is resolved permanently,meaning new elections, and we can get a clear understanding of what the next election cycle holds for us, the recovery will be fragile at best.
Of particular interest are the sectors of agribusiness, logistics, finance/insurance, utilities and real estate, which have been the recession proof drivers of growth over the last couple years.There will also be strong opportunities in infrastructure as the government looks to unwind its controls and allow more private investment. I expect this to continue and provide real prospects for growth minded companies looking for investment opportunities in Brazil.On the flip side, mining and mineral resources in general have been so completely crushed that there is excellent value there to be had. Brazil is a great place to do business. We are here to help.
As always, thanks for reading and send along any comments or suggestions.
Keep smiling,
RP
"Faith is the bird that feels the light and sings when the dawn is still dark." – Rabindranath Tagore